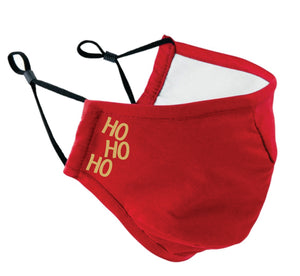 Christmas-themed & adjustable, protective 3-layer mask with nose clip. Available in red, however other colours available upon request.
3-layer protective face mask with woven fabric construction which allows the product to be washed and reused. A breathable and shaped, non-medical face mask makes the ideal solution for workplace shielding and offers a filtering functionality, to reduce particles from the environment
Reusable and washable at 60 degrees, can be tumble dried. Allows easy breathing without restriction. Pocket for optional PM2.5 Activated carbon filter (PR797 sold separately). Remove any filter prior to washing. Secured with adjustable elasticated ear loops. Shaped to fit snugly on the face and under chin. Bendable and adjustable 'nose wire' prevents glasses from fogging. Non-medical. Conforms to standards GB18401-2010B. One size fits all. 
Outer layer: 100% Woven cotton. Mid layer: Filtering non-woven cotton. Inner layer: Soft-feel 100% woven cotton
One size (15 x 13cm)
One Mask per Packet
IMPORTANT: All items are non-returnable. It makes no assurances that it can prevent transmission of infection of disease or viruses. It is not a medical or clinical face mask and as such should not be used for this purpose. It should not be used under any circumstances where infection level is high.