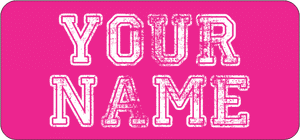 Great value pack of 180 labels
In a world where it's even more important that children aren't mixing up their belongings, make sure you label all school items and clothes with these stylish, personalised labels. Designed with children in mind, our all-purpose stick on labels suitable for all your school items, including pens, pencils, markers and lunchboxes. Iron labels are both washer & dryer safe. 
Pack includes 60 iron on labels and 120 stick-on labels. Labels are 30mm x 15mm. Also includes instructions and application paper. Easy to use, versatile, high-quality. 
Pink Sticker / White Font Design