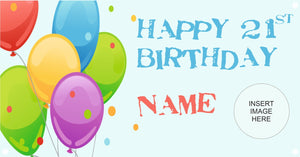 Large banner to celebrate a special person's birthday. Add their name, age & photo to make it an extra-personalised occasion.
Banner measures 4ft wide x 3ft tall, made from PVC banner material. Material is water-proof but is only recommended for temporary, short-term outdoor use. The banner comes with 4 fixed metal eyelets, on the 4 corners allowing easy and convenient hanging.
Order by 12pm for next day delivery of banners. Excludes weekend delivery.