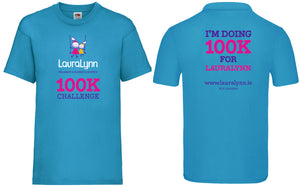 Are you taking part in the 100km challenge for LauraLynn? Would you like your children to have t-shirts too? We are delighted to be working directly with LauraLynn to bring you these replica t-shirts, with 100% of profits from sales of these t-shirts going to the LauraLynn Children's Hospice.
Note: These t-shirts are cotton material and will not be an exact match to the blue of those provided in the LauraLynn Challenge Fundraising Pack. 

Fabric 100% Cotton.

Weight 165gsm
3/4 26" 5/6 28" 7/8 30" 9/11 32" 12/13 34" 14/15 36"
Please note these items are printed to order and therefore cannot be returned / refunded. This does not affect your statutory rights.